OHSAS 18001:2007 Certification
Reduce workplace accidents - safeguard your workforce and the public
OHSAS 18001 is the internationally recognised standard for best practice in occupational health and safety management. It can help you introduce the policies, procedures and controls needed for your business to achieve the best possible workplace health and safety procedures and working conditions for your employees, aligned to internationally recognised best practice.
What are the benefits of OHSAS 18001?
Health and safety legislation can change on a daily basis. It can be both challenging to keep pace and costly not to. The welfare and safety of your employees, customers and other stakeholders is paramount and therefore implementing a standard that ensures you have systems in place to keep abreast of your legal obligations and minimise workplace risks, is crucial.
Certification to OHSAS 18001:
Improves your ability to stay up to date with relevant legislation and reduces the likelihood of non-compliance, prosecution or fines
Helps you reduce the amount of workplace incidents and accidents; your business becomes a safer place to work occurrence
Provides reassurance to your employees, customers and the general public that you are committed to ensuring their safety at all times
Is it for me?
Whilst particularly prevalent within construction and manufacturing, OHSAS 18001 is highly applicable to all other businesses and organisations, large or small, regardless of its field of activity or sector.
What is the process?
Simple process to certification.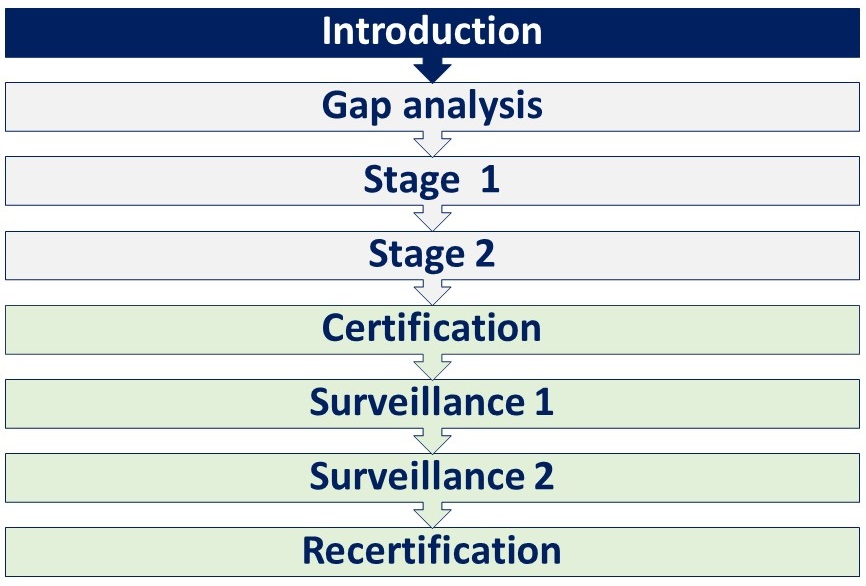 Next steps?
Fill in your application form to get a quote.
Do you have an existing OHSAS 18001 and needing to migrate to the new ISO 45001:2018, find out more by clicking the ISO 45001:2018.