ISO 45001:2018 Certification
ISO 45001:2018 Migration Process:
Many organisations have historically used the standard, OHSAS 18001:2007, to help manage health and safety. However this standard is now being replaced by an international standard, ISO 45001:2018. Organisations already holding OHSAS 18001 will need to undertake a migration to the new standard. The process below will help you to understand what will be required:
To find out more details and get practical information on the Migration process, book on our Migration to ISO 45001:2018 workshops, please click here to book your place.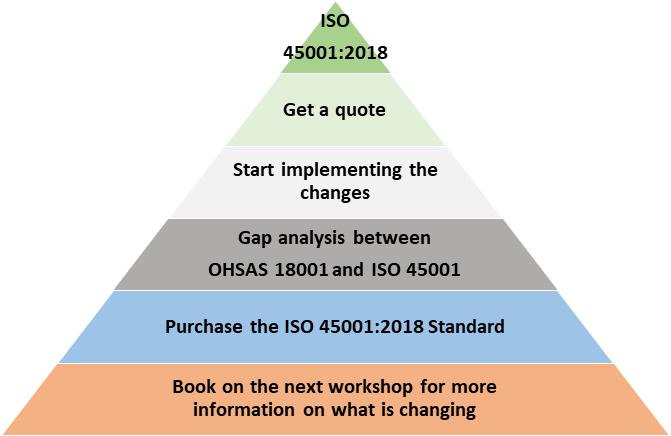 Benefits of ISO 45001:2018:
International standards

Easier to integrate with other standards like ISO 9001:2015 and ISO 14001:2015.

Aligned with other national Health and Safety standards to avoid confusion.
Possible impacts to clients:
Change to auditor due to new competency framework
Increase in time required to complete your forthcoming audits, this is due to the additional requirments around reporting of incidents or breach of regulations
New complexity levels associated with sectors
Members of public present on site i.e. hospitals, schools ..
Briefing notes from ISO website: https://www.iso.org/files/live/sites/isoorg/files/archive/pdf/en/iso_45001_briefing_note.pdf
Keep healthy at work chart: https://www.iso.org/files/live/sites/isoorg/files/archive/pdf/en/iso45001_5_tips_to_keep_your_workers_healthy_and_safe_at_work.pdf